Jerry Lee Lewis Marriage Involves Another Cousin
By: John Lester
03/25/2012 10:58 AM ET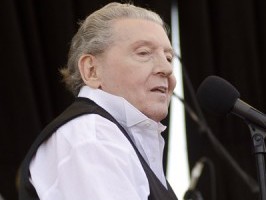 Jerry Lee Lewis is getting married for the seventh time, the National Enquirer reports, and once again, it involves one of his cousins.
Back in 1957, the rocker wed his 13-year-old cousin Myra Gale Brown, causing a scandal that nearly killed the Killer's career. Now, the eternally punk-rock 76-year-old piano man is apparently engaged to Judith Brown, the ex-wife of his cousin Rusty, Myra's younger brother.
In an interview with the Enquirer, Rusty accuses Jerry Lee of stealing his woman right out from under him. This was particularly painful, he explains, because the 'Great Balls of Fire' singer had been "a second dad" for much of his life.
"In 2010, I walked in on them and caught her rub­bing his legs — the way you're not sup­posed to," said Rusty, who once played drummer's in Lewis' band. "I confronted her and said, 'What the hell are you doing?' and she denied anything was going on."
Rusty says theirs is no great love affair, and that Jerry Lee is only after a "caregiver" — someone to make him egg-and-hot-sauce sandwiches and make sure he gets to watch his 'Gunsmoke' reruns. Judith, he says, "has a proven track record of being a gold digger," and he believes she's planning to run off with his dough.
"The crazy thing is that Jerry never liked Judith, and she used to say Jerry was dirty and that he stunk," Rusty said. "But once she got the smell of his money, things changed."
Source:
http://www.newsoxy.com/entertainment/jerry-lee-lewis-61917.html