JOE BENNETT PASSED AWAY (Rockabilly Legend)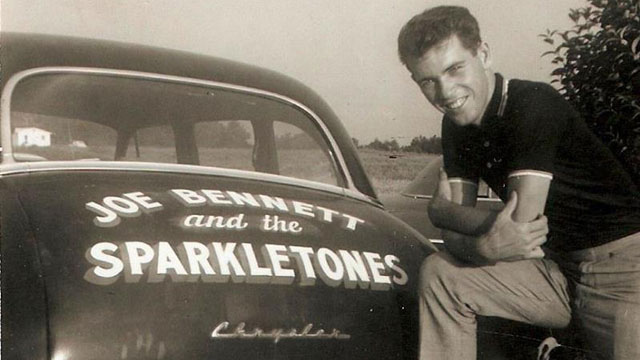 Posted: Jun 29, 2015 12:35 AM
Updated: Jun 29, 2015 1:06 AM
By Amanda Shaw
The rockabilly group Joe Bennett & the Sparkletones was born in 1956 when four friends from Cowpens came together with big dreams. The band quickly rose to prominence when their first recorded song, "Black Slacks," charted Billboard at number 17. Other Sparkletones hits included "Penny Loafers and Bobby Sox" and "Boys Do Cry."
The members were later inducted into the Rockabilly Hall of Fame.
But Joe Bennett, 75, was more than just a performer, his daughter said. The rockabilly legend, who passed away Saturday, joined the Air Force after the group disbanded in 1961 before returning to Spartanburg to teach music.
Bennett's family said he shared his gift of guitar with hundreds, if not thousands, of students during his time teaching.
Bennett's daughter, Lindsay Bennett-Fluckiger released the following statement on behalf of the family:
"On behalf of my family I would like to extend our sincere gratitude for the many kind words, prayers and memories that have been shared on social media in memory of my beloved father. He was a man of great faith and longed to see his Savior's face. He served at church, at home and beyond our community here in Spartanburg. As evidenced on the Facebook group "Joe Bennett Taught Me Guitar" he was instrumental in molding the lives of many musicians across the world.
My Dad's legacy didn't just start with his band Joe Bennett and The Sparkletones Billboard hit "Black Slacks" in the 50's, but more so when he returned to his home city of Spartanburg, SC decades later to begin sharing his unique and amazing gift of guitar playing with what would become hundreds, maybe thousands of students. My Dad used to say that EVERYONE deserved to learn to play guitar, and even though he was a rock-a-billy legend, later to be inducted to the Rock-A-Billy Hall of Fame, he wouldn't charge more for lessons than people could afford. That was one of the things that made him great.
My Dad exploded into stardom at the age of 17. He toured all across the United States and Europe with the numerous bands he had formed. He shared the stage with Paul Simon, played with Mickey Hart, was sought out by Elvis while performing in Las Vegas, and even played the Ed Sullivan Show...twice! He was a teenage idol. But what I remember about him the most is how much he genuinely loved people. He didn't just teach individuals to play; he taught entire families. People used to drive from out of state to take lessons with him because his gift was so unique. He didn't just teach his students chords and guitar progressions, but he would teach them to be great people. My Dad would say that playing the guitar wasn't just about making music but more so about sharing a part of yourself with anyone who was willing to listen.
Joe Bennett's legacy isn't just in the glittery old black and white photos, or on the Spartanburg Music Trail, but it's in the music that you hear today. His legacy is playing in venues across the nation right now. His legacy is in a mother or father pickin' a riff for their child or a student sharing a tender song with an ailing parent. His heart is here in "Sparkle City, South Carolina", but his legacy is universal.
Here's to the most amazing man our city has ever known. A true American hero and artist. Spartanburg can truly say a star was born here and will shine in our hearts forever."
Bennett is survived by his wife, Doris Bennett, and children, Joseph Bennett, Richard Bennett, Scarlette Tapp, Chad McSwain, Joseph Bennett and Lindsay Bennett-Fluckiger. Bennett is also survived by 19 grandchildren and one great-grandson.
For more about 
Joe Bennett & the Sparkletones
, 
click here
.
Sources : 
HERE